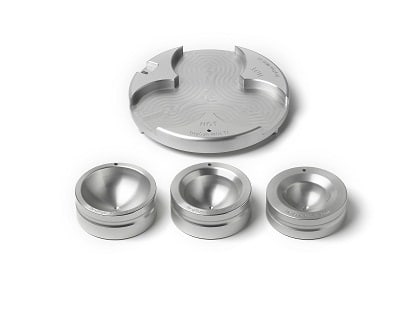 3 Part Heating block kit
Product code : COL.SHB100KIT3
COL.SHB100KIT3
The Stuart range of heating blocks have been developed in conjunction with DrySyn to provide the best possible solution for heating round bottom flasks
Via de knop "OFFERTE AANVRAAG" kan u vrijblijvend contact met ons opnemen voor verdere informatie.
3 Part Heating block kit
Product beschrijving
- Turn your hotplate into a heating mantle
- Flexible modular system
- Cleanest and safest way to round bottom flasks

The Stuart range of heating blocks have been developed in conjunction with DrySyn to provide the best possible solution for heating round bottom flasks. Combined with the Stuart range of undergrad hotplates and hotplate stirrers, the Stuart heating blocks provide the cleanest and safest method for synthesis for single of multiple reactions, whilst giving equal or better heating performance than silicon oil.

The SBH100KIT3 includes: Stuart heating blocks kit: Base with (1 x 25ml), (1 x 50ml) and (1 x 100ml) lnserts

The modular nature of the Stuart heating block system gives you the greatest degree of flexibility, mix and match the inserts to accomodate whichever flask sizes you require.

The high quality anodised blocks offer excellent chemical and solvent resistance, and the low well has been proven to offer excellent temperature transfer without compromising your view of the reaction or risking cracking the glassware. The low well also ensures that the blocks are compatible with multi neck flasks.

Stuart heating blocks are compatible with the undergrad range of hotplates, and each block includes a probe hole to house the Stuart SCT1 temperature controller probe, allowing accurate control of the block temperature whilst on the Stuart hotplate.




3 Part Heating block kit
Product specificaties
3 Part Heating block kit
Product documenten
Notify