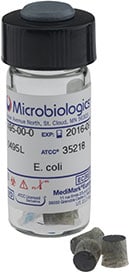 Achromobacter xylosoxidans derived from ATCC® 27061™
Product code : MIC.0516L
You can always send us a quote request or ask for more information via the button "ADD TO WISHLIST".
Achromobacter xylosoxidans derived from ATCC® 27061™
Product Description
It doesn't get much easier than this. Simply rehydrate LYFO DISK qualitative microorganism pellets with a diluent, such as phosphate buffer or saline, and you're ready to inoculate your culture media. LYFO DISK, packaged in a glass vial containing 6 pellets of a single strain, offers a ton of flexibility. It's an ideal solution for many quality control applications including presence/absence testing, microbial identification methods, antimicrobial susceptibility testing, media QC, water testing and more!
Highlights
Over 900 strains available
Easy to use – simply re-hydrate the pellet and inoculate
Strains are less than or equal to four passages from reference culture
Ready-to-use format saves time and money
Refrigerated storage is easy and economical
Online Certificate of Analysis provides detailed strain information
Traceability to reference cultures ensures authenticity
experts available for guidance
Product warranty
Achromobacter xylosoxidans derived from ATCC® 27061™
PRODUCT SPECIFICATIONS
Vials of 6 qualitative lyophilized microorganism pellets
Stock temperature condition
Achromobacter xylosoxidans derived from ATCC® 27061™
Product documents