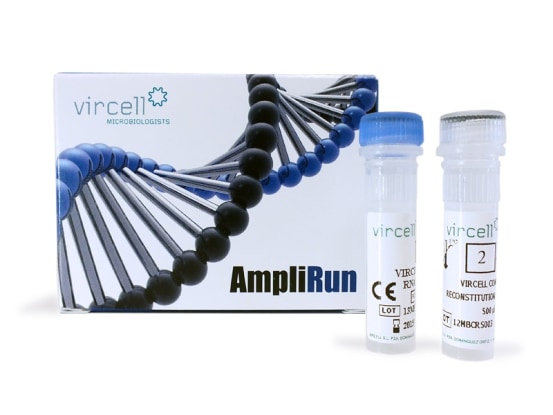 AMPLIRUN® UREAPLASMA PARVUM DNA CONTROL
Product code : VIR.MBC133
VIR.MBC133
PCR Controls · AmpliRun® DNA/RNA
You can contact us for more information via the button "Quote request"
AMPLIRUN® UREAPLASMA PARVUM DNA CONTROL
Product description
AMPLIRUN® UREAPLASMA DNA CONTROL
Purified DNA of Ureaplasma to be used to control in vitro diagnosis techniques based in nucleic acids amplification.
Purified complete microbial genome
Any sequence can be amplified
Concentration range: 10.000-20.000 copies/µl determined by qPCR
Can be used in any molecular testing platform
Non infectious
Lyophilized presentation
A resuspension vial is provided within the kit with Molecular Biology Grade Water
Complete genome U. urealyticum: AAYN02000002, AAYN02000001
Partial sequences U. parvum: AF056983, AF073458, AF085731,
AF270768, AF272615, AF272628, AY191440
General information
Ensure accuracy and reproducibility of your molecular tests for infectious diseases with Vircell's quantified PCR controls.
Take advantage of its wide use:
Amplification of the genotype of interest
Validation of in-house and commercial methods (sensitivity, specificity, limit of detection, precision)
Absolute sample quantification by standard curve
Objective interpretation of results
Overcome limitations of using clinical samples as positive controls
Lyophilized presentation improves stability and avoids extra transport costs as there is no need of dry ice. Controls must be reconstituted with 100 µl of Molecular Biology Grade Water, free of DNase, RNase.
AMPLIRUN® UREAPLASMA PARVUM DNA CONTROL
Product specifications
AmpliRun® DNA/RNA , PCR Controls
Molecular syndromic testing
AMPLIRUN® UREAPLASMA PARVUM DNA CONTROL
Product documents
Notify