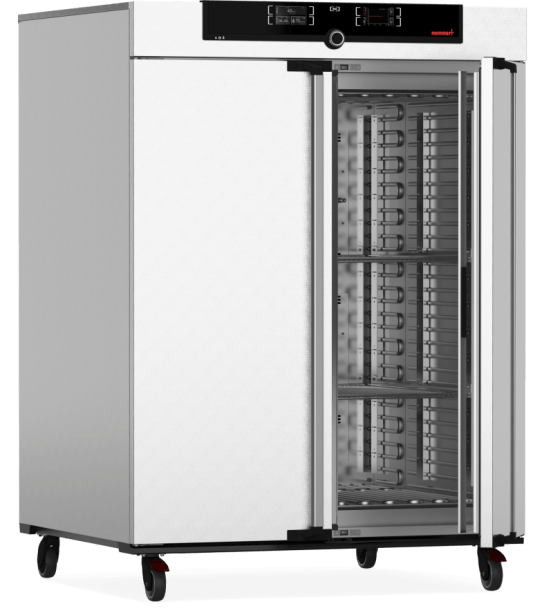 Cleanroom constant climate chamber HPP1060
Product code : MEM.HPP1060
MEM.HPP1060
Fraunhofer TESTED DEVICE in the standard version. The cleanroom-compliant constant climate chamber for environmental simulation, climate testing and stability testing.

You can contact us for more information via the button "add to Wishlist'
Cleanroom constant climate chamber HPP1060
Product description
Constant climate chamber certified for use in the cleanroom
The suitability of the Memmert constant climate chamber HPP1060 for use in the cleanroom has been confirmed by the independent Fraunhofer IPA (Institute for Manufacturing Engineering and Automation). It is therefore entitled to bear the certificate Fraunhofer TESTED DEVICE®. In order to guarantee the maximum quality assurance, the drying oven was tested in accordance with a uniform and statistically secured standard. The tested appliance was given the certificate in its standard version without any modifications such as particulate filters. The HPP1060 attains cleanroom class 5 in accordance with DIN EN ISO 14644-14.
Temperature range up to +70 °C
1 model size (1060 litres volume)
1 model variant: TwinDISPLAY
Digitally controlled active humidification and dehumidification up to 90%
Double doors as standard: prevention of contamination and drops or rises in temperature, and at the same time an optimal view of the sensitive load through wide-area interior glass doors (size 2200 three leaves)
Modern technology in the cleanroom – comfortable programming and documentation as well as energy efficient Peltier technology
The fittings of this constant climate chamber are practically-oriented, their programme functions are designed for a wide variety of applications in the cleanroom, and even when used intensively, our all-rounder made of stainless steel loses nothing in shine and reliability. The top equipment with controller class TwinDISPLAY covers all requirements of thermal safety, precision and quality assurance. The proven Memmert heating and cooling concept with Peltier elements is particularly economical and energy-saving.
A Memmert constant climate offers unique advantages
intuitive and easy-to-use operating menu
temperature and humidity ramps programmable via AtmoCONTROL software
almost exclusive use of high-quality, corrosion-resistant and easily cleanable stainless steel for the working chamber and housing
Peltier heating and cooling concept specifically adapted for a precise and homogenous temperature control
a wide range of options for programming and documentation using interfaces, integrated data logger and software AtmoCONTROL
3 years guarantee worldwide
Cleanroom constant climate chamber HPP1060
Product specifications
1060l; internal dimensions: 1040 x 1200 x 850 mm
Cleanroom constant climate chamber HPP1060
Product documents
Notify