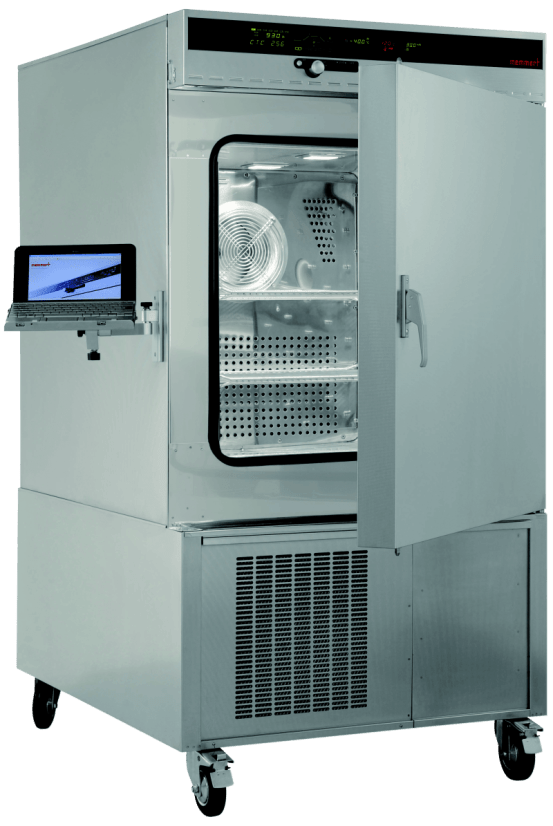 Climate test chamber CTC256
Product code : MEM.CTC256
MEM.CTC256
The environment test duo for temperature test and climate test simulates the perfect atmosphere according to standards and reduces the time needed for certain processes through rapid temperature changes.

You can contact us for more information via the button "add to Wishlist'
Climate test chamber CTC256
Product description
Rapid and energy-saving temperature changes in the environmental chamber
Rapid, precise and energy-saving temperature changes in the range from -42 ºC to +190 ºC, along with fast humidity recovery times, make the TTC temperature test chamber and the CTC climatic test chamber with humidity unit a perfect duo for controlled material testing, function tests, ageing tests or climate tests on composites, concrete, plastics or electronic components in material technology, the automotive and aerospace industries, and electronics.
1 model size (256 litres volume)
state-of-the-art control technology
electronically controlled active humidification and dehumidification from 10 % to 98 % rh
specifically suited for tests in accordance with IEC 60068
high-tech insulation system for permanent insulation capacity and energy efficiency
temperature change rate in heating operation according to IEC 60068-3-5: 10 K/min (-40 °C to +180 °C; measured at an ambient temperature of 22 °C)
temperature change rate in cooling operation according to IEC 60068-3-5: 3 K/min (from +180 °C to -40 °C; measured at an ambient temperature of 22 °C)
refrigerant R449A
Perfect environmental simulation for climate test and temperature test
The climatic test chamber CTC and temperature test chamber TTC are, with a rated power of 7000 Watts, extremely powerful due to the optimally coordinated heating and cooling technology. Largest possible energy efficiency and reduction in noise had been two criteria for the Memmert engineers to fulfill. With a chamber volume of 256 litres, they provide plenty of space to offer, yet have a low floor space requirement because of their narrow and compact construction. In addition, the appliances can be conveniently moved on castors through any standard laboratory door.
Refrigerant R449A significantly more climate-friendly than R404A
The refrigerant R404A is only permitted without restriction until 31 December 2019 due to its high Global Warming Potential. In order to ensure that both the climate test chamber CTC as well as the temperature test chamber TTC can also be operated beyond this date, Memmert has reacted early by switching to the refrigerant R449A from April 2018 on. Existing appliances can also be converted to the new refrigerant in the "drop-in" or "retrofit" process, depending on the application.
A Memmert environmental chamber CTC/TTC offers unique advantages
heating concept specifically adapted for a precise and homogenous temperature control
alarm functions, three-fold overtemperature protection and simultaneous display of all parameters provide safety for samples
a wide range of options for programming and documentation using interfaces, Celsius software, integrated log memory and chip cards (features dependent on the controller class)
3 years guarantee worldwide
Temperature-humidity working range CTC
Not all climate chambers are the same. The humidity content of the chamber load, the ambient conditions and the respective temperature-humidity working range are decisive factors in the selection of the right appliance. In the adjacent diagram, you can see the possible temperature/humidity combinations for our climatic test chamber CTC.
Within the respective temperature-humidity range, condensation-free permanent operation is possible. To which extent condensation may occur in the threshold range depends on the humidity content of the chamber load and the ambient conditions.
This seems not to be the appropriate device for your temperature-humidity-working range?
See the other Memmert climate chambers.
Humidity Chamber HCP
Climate Chamber ICHeco / ICHeco L / ICH C
Constant climate chamber HPP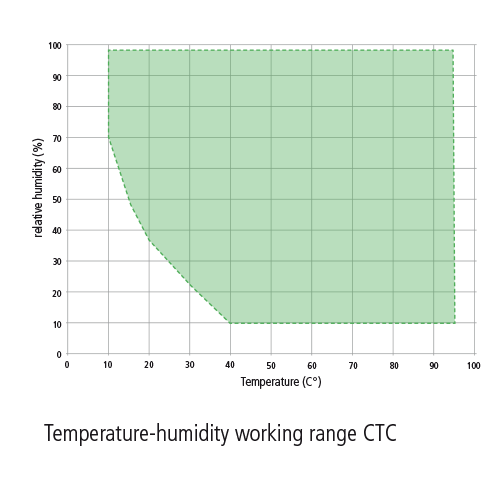 Climate test chamber CTC256
Product specifications
256l; internal dimensions: : 640 x 670 x 597 mm
Notify