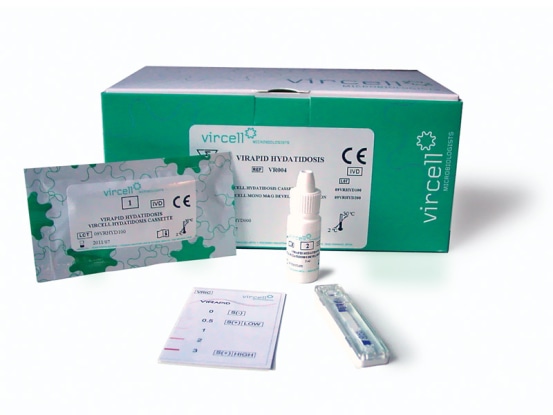 VIRAPID® HYDATIDOSIS
Product code : VIR.VR004
VIR.VR004

You can contact us for more information via the button "add to Wishlist'
VIRAPID® HYDATIDOSIS
Product description
VIRAPID® HYDATIDOSIS
Immunochromatographic test for the qualitative detection of total antibodies against Echinococcus granulosus in serum/plasma samples.
Rapid detection - Visual reading in just 30 minutes
User friendly protocol with little manipulation
All necessary reagents are included in the kit
Product control line on each device
Based on specific and highly purified antigen (conjugate and line)
Excellent performance with 94.7% sensitivity and 99.5% specificity
General information
Imaging techniques such as ultrasound scan or X-ray are the tools usually used to diagnose hydatidosis. However, symptoms of hydatid cyst must be always confirmed by serological assay since it can be confused with other illnesses, including tumours. Cysts can be treated with chemotherapy while the treatment does not always give good results. Sometimes operation is required.
There is no specific standardized and highly sensitive serological test; so, in clinical practice the serological results depend on many factors such as quality of the antigen, technique employed, affected organ, number of hydatid cysts and variability of immune responses. Due to variable sensitivity of different tests, many laboratories usually carry out at least two different techniques for their routine diagnosis. Currently, serological confirmation is performed through a combination of several techniques. The most commonly used tests are enzyme-linked immunosorbent assays (IgG-ELISA), indirect hemagglutination (IHA) and latex agglutination (LAT).
VIRapid® HYDATIDOSIS is the first immunochromatographic test in the market for hydatidosis detection and offers important benefits for both, big and small laboratories, in prevalent areas against the techniques currently used. A HPLC-purified E. granulosus 5/B enriched antigen is used to improve the specificity of the assay while keeping a high sensitivity.
VIRAPID® HYDATIDOSIS
Product specifications
Notify