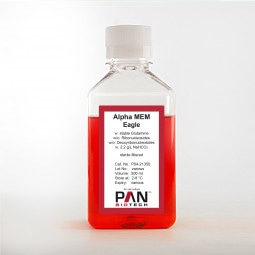 Alpha MEM Eagle, w: stable Glutamine, w/o: Ribonucleosides, w/o: Deoxyribonucleosides, w: 2.2g/L NaHCO3
Product code : PAN.P04-21350
PAN.P04-21350
Alpha MEM is a different formulation of MEM Eagle and contains a higher concentration of amino acids. It also has a higher concentration of lipoic acid, vitamins and pyruvate. Primarily it was developed for the cultivation of hamster kidney c…

Via de knop "toevoegen aan verlanglijst" kan u vrijblijvend contact met ons opnemen voor verdere informatie.
Alpha MEM Eagle, w: stable Glutamine, w/o: Ribonucleosides, w/o: Deoxyribonucleosides, w: 2.2g/L NaHCO3
Product beschrijving
Alpha MEM is a different formulation of MEM Eagle and contains a higher concentration of amino acids. It also has a higher concentration of lipoic acid, vitamins and pyruvate. Primarily it was developed for the cultivation of hamster kidney cells, but today it is used for a broad range of mammalian cells. Among others the alpha MEM promotes the growth and progeny of bone marrow cells in suspension culture and monolayer. A further possibility is the use as a separation medium or for the out-breeding of amniotic cells.
Alpha MEM Eagle, w: stable Glutamine, w/o: Ribonucleosides, w/o: Deoxyribonucleosides, w: 2.2g/L NaHCO3
Product specificaties
Stock temperature condition
Alpha MEM Eagle, w: stable Glutamine, w/o: Ribonucleosides, w/o: Deoxyribonucleosides, w: 2.2g/L NaHCO3
Product documenten
Notify