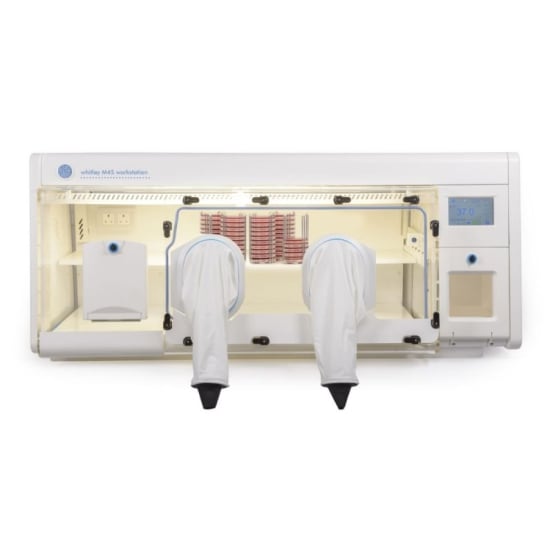 Whitley M45 Workstation
Product code : DWS.A07780
The M45 variable atmosphere workstation is ideal for the study and isolation of Campylobacter spp, Helicobacterpylori and other similarly fastidious microaerophiles. The M45 has three ports for convenient user access to the entire incubation and…
You can always send us a quote request or ask for more information via the button "ADD TO WISHLIST".
Whitley M45 Workstation
Product Description
The M45 variable atmosphere workstation is ideal for the study and isolation of Campylobacter spp, Helicobacterpylori and other similarly fastidious microaerophiles. The M45 has three ports for convenient user access to the entire incubation and working areas.
Accommodates over 750 x 90mm Petri dishes whilst still providing a generous working area.
For total flexibility, up to four gases - nitrogen, carbon dioxide, air and a 10% hydrogen/90% nitrogen mix - can be combined within safe and varying ratios to provide a specific atmosphere for your experiments.
Optional removable front (with instant access or traditional sleeved ports) to enable the transfer of larger batches of samples or pieces of equipment for use inside the chamber.
Built-in rapid airlock allows the transfer of plates in just 60 seconds.
Colour, touch-screen control panel for ease of use and for visual display of parameters such as temperature, humidity, and airlock cycle status.
Reminder to perform calibration can be set for between 7 and 21 days.
Save time with the automatic commissioning cycle
Whitley M45 Workstation
PRODUCT SPECIFICATIONS
5°C above ambient up to 45°C
Airlock Cycle Time (seconds)
Fitted as standard (network access required)
40 x 90mm Petri dishes via airlock
Spotlight / Inspection Lamp
1 x Instant Access Port + 2 Manual Oval Sleeved Ports (other configurations available on request)
Capacity (Petri Dishes) *Capacity based upon using 90mm Petri dishes. Shown as working / short term maximum with limited working space
Whitley M45 Workstation
ACCESSORIES
Whitley M45 Workstation
CONSUMABLES
Whitley M45 Workstation
Product documents