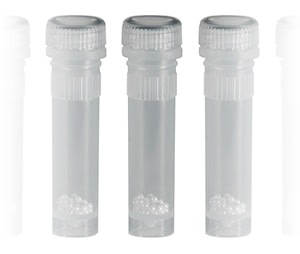 1.4 mm ceramic beads in 2 ml tubes - Soft Tissue Homogenizing Mix
Product code : OMN.19-627D
Microbial DNA free Bead Ruptor bead beating tubes are molecular biology grade, nuclease free tubes, pre-filled with an optimized amount of sterilized lysing matrix to provide …
Bead material
Certification
Packaging Unit

Via de knop "OFFERTE AANVRAAG" kan u vrijblijvend contact met ons opnemen voor verdere informatie.
1.4 mm ceramic beads in 2 ml tubes - Soft Tissue Homogenizing Mix
Product beschrijving
Microbial DNA Free Soft Tissue Grinding Mix
Microbial DNA free Bead Ruptor bead beating tubes are molecular biology grade, nuclease free tubes, pre-filled with an optimized amount of sterilized lysing matrix to provide efficient and high yield sample homogenates. Products are rigorously tested using microbial DNA PCR assays.
Product Features:
2.0 mL Polypropylene screw cap tubes pre-filled with 1.4 mm ceramic beads
Ideal for applications that are sensitive to the presence of bacterial or fungal DNA contamination.
Recommended for: soft tissues, brain, liver, kidney, spleen, and soft plant
Certification: RNase & DNase Free, Microbial DNA Free

Ordering Information: Unit includes 50 bead beating tubes prefilled with 1.4 mm ceramic beads
1.4 mm ceramic beads in 2 ml tubes - Soft Tissue Homogenizing Mix
Product specificaties
Pre-filled bead tubes & plates
RNase & DNase free, Microbial DNA free
1.4 mm ceramic beads in 2 ml tubes - Soft Tissue Homogenizing Mix
Product documenten
Notify