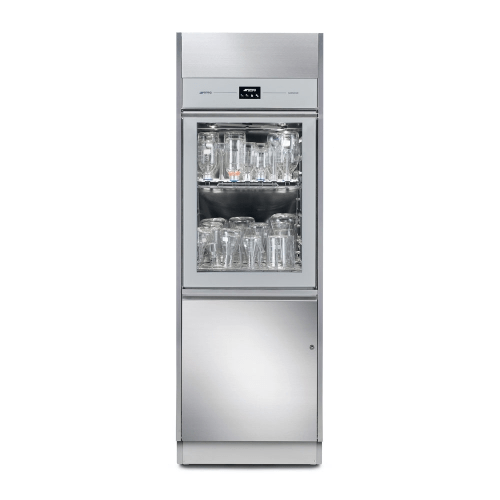 GW6010 HIGH CAPACITY DOUBLE DOOR LABORATORY GLASSWARE WASHER (266 Lt.) Professional line - double door glassware washers
Product code : SME.GW6010 SME.GW6010
GW6010 is a machine with glass drop down door with a high loading capacity capable of handling large quantities of material of different size. Washing chamber 650x720x1945 mm (three times the useful volume of medium-sized machines). Able to…
Via de knop "toevoegen aan verlanglijst" kan u vrijblijvend contact met ons opnemen voor verdere informatie.
GW6010 HIGH CAPACITY DOUBLE DOOR LABORATORY GLASSWARE WASHER (266 Lt.) Professional line - double door glassware washers
Product beschrijving
GW6010 is a machine with glass drop down door with a high loading capacity capable of handling large quantities of material of different size. Washing chamber 650x720x1945 mm (three times the useful volume of medium-sized machines). Able to load up to 5 direct injection glassware levels. .
washing up to 95°C - antibacterial thermal disinfection
capacity up to 5 adjustable levels
programs: 20 set programes + 20 free programes
multi-language TFT colour touch screen on both sides
functioning protected by different levels password
integrated built-in panel printer (optional)
USB port for downloading washing cycles log
ethernet port for LAN connection (optional)
2 drop down full glass door
door locked for safety
high pressure hot air drying system
high efficency Ecoslim steam condenser (optional)
peristaltic pump for liquid detergent and level sensor
peristaltic pump for liquid neutralizer and level sensor
possibility of installin up 2 additional peristaltic pumps
detergent cabinet with remouvable tray for storing up to 3 cans of 5 liters and one of 1 liter
washing chamber made of AISI 316L stainless steel
external panels made of AISI 304 stainless steel
external dimensions: LxDxH: 650 x 720 x 1950 mm
internal working dimensions LxDxH: 550 x 620 x 685 mm
cold water, hot water and demineralized water connections
floor drain connection
drain pump (optional)
electrical connection: 3/N/PE 400 V - 50 Hz - 13 kW max
60 Hz version available
without racks
GW6010 HIGH CAPACITY DOUBLE DOOR LABORATORY GLASSWARE WASHER (266 Lt.) Professional line - double door glassware washers
Product specificaties
additional peristaltic pumps for additives
GW6010 HIGH CAPACITY DOUBLE DOOR LABORATORY GLASSWARE WASHER (266 Lt.) Professional line - double door glassware washers
Product documenten
Notify