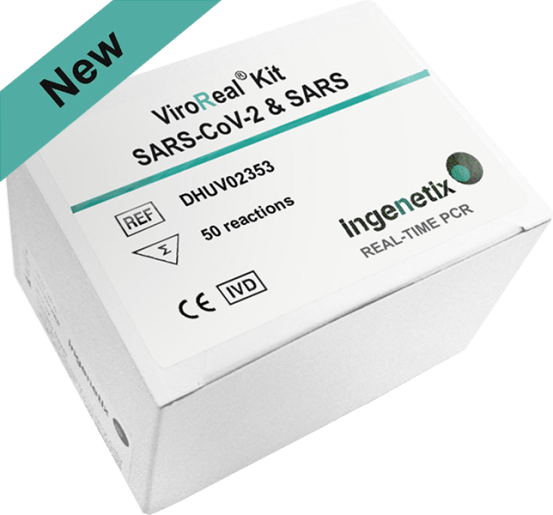 ViroReal® Kit SARS-CoV-2 & SARS
Product code : ING.DHUV02313
New detection assay based on real-time PCR amplification of the n-Gene of SARS-CoV-2 and SARS.
Packaging Unit

Via de knop "OFFERTE AANVRAAG" kan u vrijblijvend contact met ons opnemen voor verdere informatie.
ViroReal® Kit SARS-CoV-2 & SARS
Product beschrijving
Background:
SARS-CoV-2 is a beta coronavirus that emerged in Wuhan, China in December 2019 and can lead to pneumonia. Fever, cough and breathing difficulties are described as the most frequent initial symptoms. According to the WHO, the possibility of human-to-human transmission has been proven. An exact clarification of the mode of transmission is still in progress. In addition, the WHO states that so far, a mild course of infection has been observed in most of the cases, while more severe courses were observed in about 20% of the cases.
Description:
ViroReal® Kit SARS-CoV-2 & SARS uses RT real-time PCR for the detection of RNA of the n-gene of coronaviruses SARS-CoV-2 and SARS . Our carefully designed primers and probe ensure highest sensitivity and specificity. The kit consists of an assay mix for the detection of the pathogens as well as a positive control and an internal positive control (IPC). Reverse transcription and PCR can be performed in one reaction well. For more detailed information see here
Product Features:
Amplification and detection:

n-

gene

of

SARS-CoV-2 and SARS

Transcription with

thermostable MMLV Reverse Transcriptase (M-MLV)

contains

RNase Inhibitor

to block RNA degradation

Real-time PCR

with

rapid hot-start

Taq DNA polymerase

ROX™ dye

as passive reference

Internal Positive Control System

to exclude false-negative results
Optimized to

handle PCR inhibitors

PCR- platforms: runs on all established

standard real-time PCR- platforms

Harmonized thermal profiles

to run RNA and DNA samples simultaneously
Available formats: Kit (with reaction mix)
PCR platforms: ViroReal® Kit SARS-CoV-2 & SARS is developed and validated for the Applied Biosystems® 7500 System (Thermo Fisher Scientific), LightCycler® 480 (Roche) and Mx3005P® QPCR System (Agilent), but is also suitable for other real-time PCR instruments.
ViroReal® Kit SARS-CoV-2 & SARS
Product specificaties
Channel Internal Positive Control
Notify