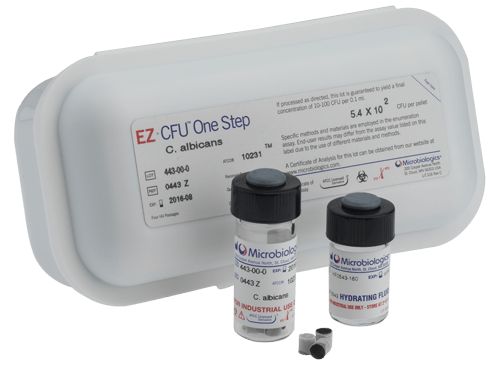 2.0 ml Hydrating Fluid
Product code : MIC.HF0543
MIC.HF0543
You can contact us for more information via the button "Quote request"
2.0 ml Hydrating Fluid
Product description
Is your lab still preparing microorganism suspensions the old fashioned way for Growth Promotion Testing of culture media? Allow us to introduce you to your new favorite lab supply, EZ-CFU One Step. We designed this product specifically for Growth Promotion Testing, Suitability of Tests for Specified Microorganisms, Suitability of Counting Methods and more. These ready-to-use quantitative microorganisms are just 3 passages from the reference culture and deliver 10-100 CFU per inoculum, as required by the Pharmacopeias, with minimal prep time.
Highlights
Delivers 10-100 CFU per 0.1 ml as required by USP/Ph. Eur./JP
No dilutions required for simplified test procedure
Up to 8 hours stability allows for ultimate flexibility
19 tests per set-up, 190 tests per kit
Strains are less than or equal to four passages from reference culture – meets USP/Ph. Eur./JP requirements
Refrigerated storage is easy and economical >
Online Certificate of Analysis provides detailed strain information
Traceability to reference cultures ensures authenticity
experts available for guidance
Backed by a full product warranty
2.0 ml Hydrating Fluid
Product specifications
10 vials containing 2 ml of microorganism hydrating fluid in each vial
Not for use with Pseudomonas.
Stock temperature condition
2.0 ml Hydrating Fluid
Product documents
Notify