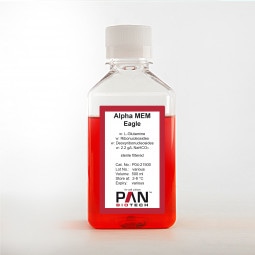 Alpha MEM Eagle, w: L-Glutamine, w: Ribonucleosides, w: Deoxyribonucleosides, w: 2.2g/L NaHCO3
Product code : PAN.P04-21500
PAN.P04-21500
Alpha MEM is a different formulation of MEM Eagle and contains a higher concentration of amino acids. It also has a higher concentration of lipoic acid, vitamins and pyruvate. Primarily it was developed for the cultivation of hamster kidney c…

You can contact us for more information via the button "QUOTE REQUEST"
Alpha MEM Eagle, w: L-Glutamine, w: Ribonucleosides, w: Deoxyribonucleosides, w: 2.2g/L NaHCO3
Product description
Alpha MEM is a different formulation of MEM Eagle and contains a higher concentration of amino acids. It also has a higher concentration of lipoic acid, vitamins and pyruvate. Primarily it was developed for the cultivation of hamster kidney cells, but today it is used for a broad range of mammalian cells. Among others the alpha MEM promotes the growth and progeny of bone marrow cells in suspension culture and monolayer. A further possibility is the use as a separation medium or for the out-breeding of amniotic cells.
Alpha MEM Eagle, w: L-Glutamine, w: Ribonucleosides, w: Deoxyribonucleosides, w: 2.2g/L NaHCO3
Product specifications
Stock temperature condition
Alpha MEM Eagle, w: L-Glutamine, w: Ribonucleosides, w: Deoxyribonucleosides, w: 2.2g/L NaHCO3
Product documents
Notify