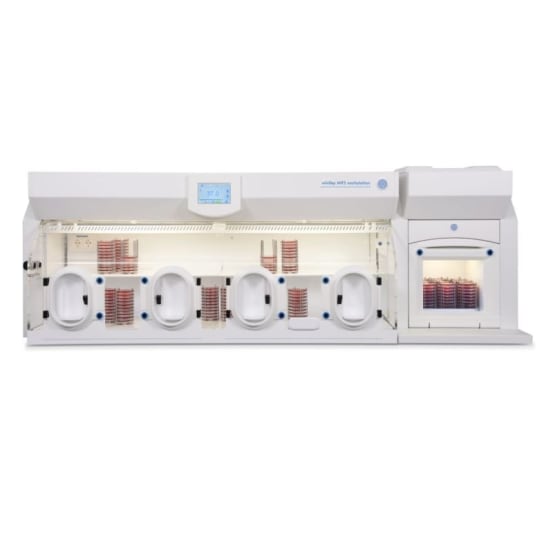 Whitley M95 Workstation
Product code : DWS.A08270
The Whitley M95 variable atmosphere workstation is ideal for the study and isolation of Campylobacter spp, Helicobacterpylori and other similarly fastidious microaerophiles. This workstation accommodates up to 1,400 x 90mm plates
You can always send us a quote request or ask for more information via the button "ADD TO WISHLIST".
Whitley M95 Workstation
Product Description
The Whitley M95 variable atmosphere workstation is ideal for the study and isolation of Campylobacter spp, Helicobacterpylori and other similarly fastidious microaerophiles. This workstation accommodates up to 1,400 x 90mm plates.
For total flexibility, up to four gases - nitrogen, carbon dioxide, air and a 10% hydrogen/90% nitrogen mix - can be combined within safe and varying ratios to provide a specific atmosphere for your experiments.
Large 30 litre airlock with powered internal door provides effective sample and equipment transfer in the fastest possible time whilst ensuring the minimum amount of oxygen is introduced into the chamber.
Two oval ports enable you to work gloved or bare handed.
Each porthole also acts as a mini-airlock so you can transfer up to 10 plates each time you insert or withdraw your arms, so reducing airlock cycles and gas usage.
Colour, touch-screen control panel for ease of use and for visual display of parameters such as temperature, humidity, and airlock cycle status.
Reminder to perform calibration can be set for between 7 and 21 days.
Optional refrigeration unit available if you are working with organisms that need low temperature incubation or storage conditions.
Automatic commissioning cycle to save you time and resources.
Whitley M95 Workstation
PRODUCT SPECIFICATIONS
Available - please contact us for more information
5°C above ambient up to 45°C
Airlock Cycle Time (seconds)
Fitted as standard (network access required)
10 plates per port + 90 plates via airlock (130)
Spotlight / Inspection Lamp
Manual, sleeved and oval ports
Capacity (Petri Dishes) *Capacity based upon using 90mm Petri dishes. Shown as working / short term maximum with limited working space
Whitley M95 Workstation
ACCESSORIES
Whitley M95 Workstation
CONSUMABLES
Whitley M95 Workstation
Product documents